Are you eager to volunteer at the Delft Fringe Festival? Can't wait for Delft to turn Fringe pink again? And to get to know the up-and-coming talents who show their skills in special places in the city? Or would you like to join the Fringe team for the first time this year?
We welcome you with open arms for the Delft Fringe Festival 2024 (Wednesday, May 28 through Sunday, June 9). Volunteers are indispensable for the Delft Fringe Festival. As employees, but certainly also as ambassadors to promote the performances. You get a passe-partout to visit all performances so you can inform and enthuse visitors from your own experience.
We are looking for enthusiasts who are multi-purpose. Would you like to come and help us build, welcome the audience, scan and sell tickets?
What do we expect from you?
As a volunteer you are the business card of the festival. You are representative, enthusiastic and enjoy dealing with people and makers.
Young (18+) and old, studying, working or retired: everyone is welcome to contribute to the best festival in Delft!
You are available for a minimum of 3 shifts, before, during and/or after the festival).
You can work with a smartphone and ipad (we will be happy to explain it to you).
What can you expect from us?
If you work 3 shifts or more you get a passe-partout that allows you, if you are free, to go to all performances.
The official and original Delft Fringe Festival t-shirt.
You get a short training during one of the volunteer meetings prior to the festival. This way you get to know your fellow volunteers.
Through the volunteer agreement you fall under the volunteer policy through the municipality of Delft. Of course during the festival we have the legendary Ré's karaoke party to sing (*not obligatory but fun) and dance together!
You get to know a lot of new people and a lot of (hidden) locations in Delft.
You'll get to know up-and-coming creators and help them reach a wider audience.
A unique look behind the scenes at the festival!
A nice addition to your CV in terms of work for a cultural organization.
Do you have any questions? Please contact our volunteer coordinator at vrijwilligers@delftfringefestival.nl.
What are you going to do?
At the Delft Fringe Festival all volunteers are multi-tasked. Prior to the festival you will help with the build-up, bring materials to the locations etc. At the dismantling (usually the Sunday right after the last performance) we make sure all the stuff is back at the production office.
During the festival you will do all kinds of things: informing people, selling tickets, being a host/hostess, helping in the office with the distribution of stuff. Sometimes you will join a tour or show our visitors the way. You have no problem doing it. Whatever you do, you become part of our great Delft Fringe volunteer team!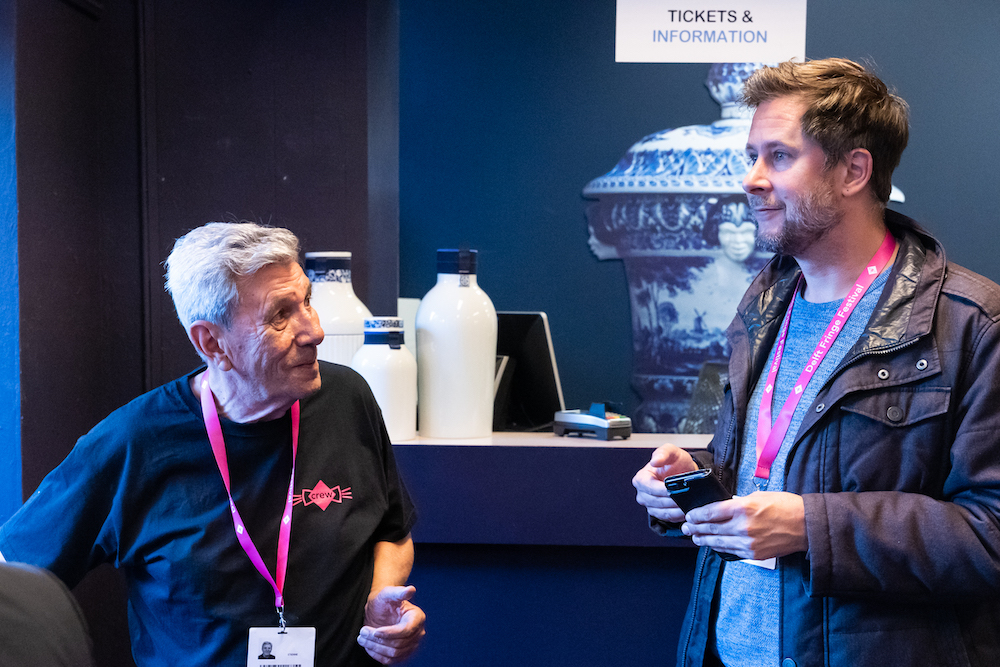 Where will you work?
At 1 of the 29 locations
Get to work as an audience supervisor and be the festival's calling card. You check the entrance tickets and ensure a good audience flow. After the performance you make sure the audience can vote how they experienced the performance. You work at different locations around town.
At the Market
At the box office (a big pink rabbit) and information desk you are responsible for selling tickets for the performances and give information and good tips about the performances. You have a lot of contact with the audience and casual passers-by. Read up in advance so you are aware of the program (and go see performances so you speak from your own experience!).
At the production office
As production assistant you will support the organization, volunteer coordinator with shaping the festival and make sure everything is ready for visitors and creators. This can be anything from. Just bringing an ipad to 1 of the 28 locations, laminating that last leaf, bringing the key to the Genestet church, handing out stuff, putting up a sign. Or a public service is down, then you fill this position.
Working times
A festival day usually begins at 11 a.m. and ends at 11 p.m. (5 p.m. on Sundays). All tasks are divided into shifts. You will work an average of 5 hours per shift. Starting in mid-April, the shifts will come online. Through a personal portal you can arrange your own schedule and shifts. We will explain to you how to do that.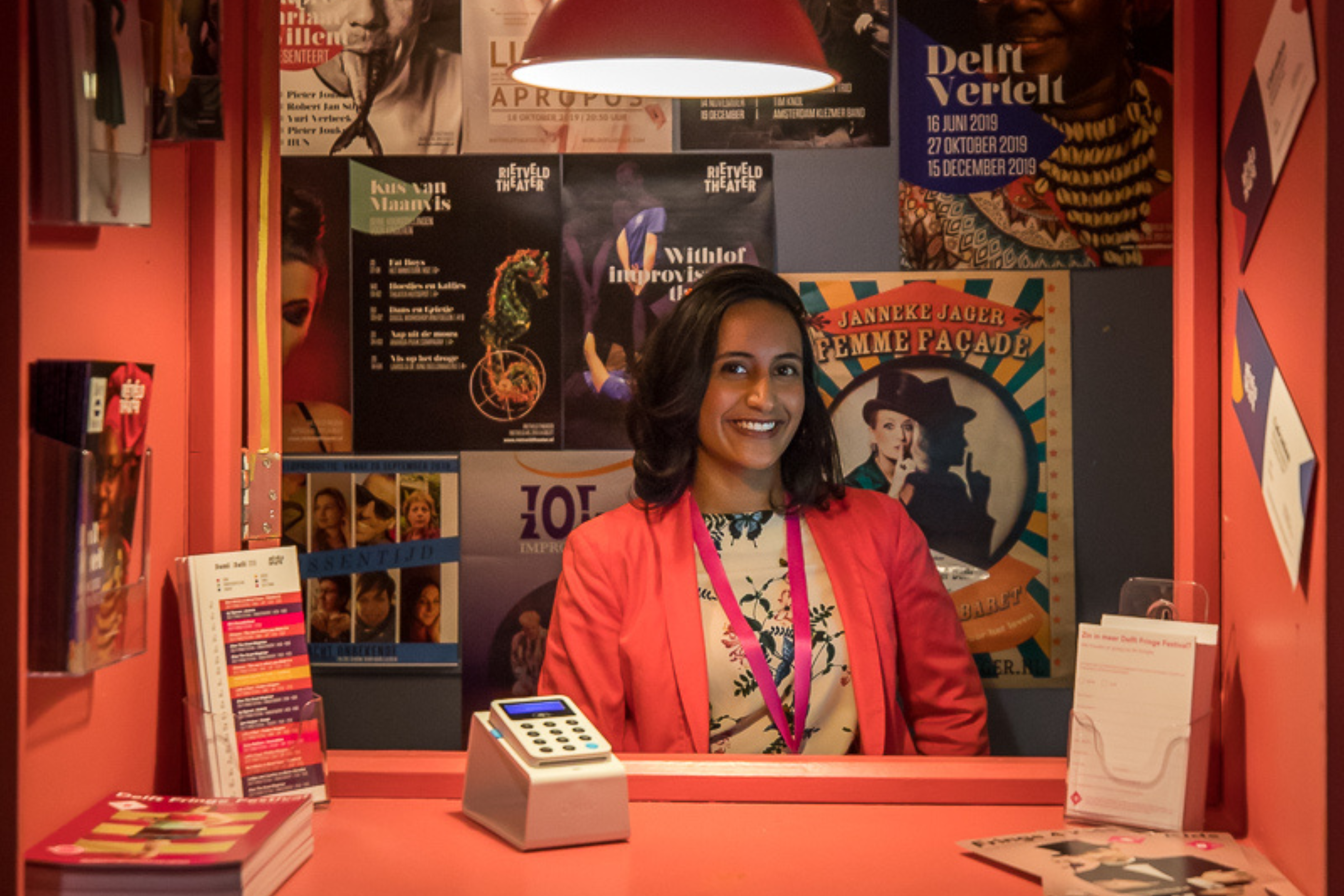 Spread the word!
What could be more fun than volunteering together, sharing your experiences? Perhaps you know friends, acquaintances, colleagues, neighbors, brothers or sisters who would like to volunteer at Delft Fringe Festival? Point them to this page! Become part of our great Delft Fringe volunteer team together.
Stay informed
Tip: subscribe to the volunteer newsletter (in Dutch) with no obligation so that you are up to date with all the news!
Experiences from other volunteers
I experienced a wonderful 10 days. I needed some time to land. But look back on it with a big smile.

- Esther, volunteer 2022
I have great admiration for the team! That you guys manage to shape such a quality festival evokes this admiration. And seemingly with such ease, enjoyment and pleasure. This is inspiring to contribute as a volunteer as well. Thank you for the fun experience!

- Monique, volunteer 2022
It was great again, with all the friendly volunteers and inspiring artists. See you next year!

- Jack, volunteer 2022